GFA 001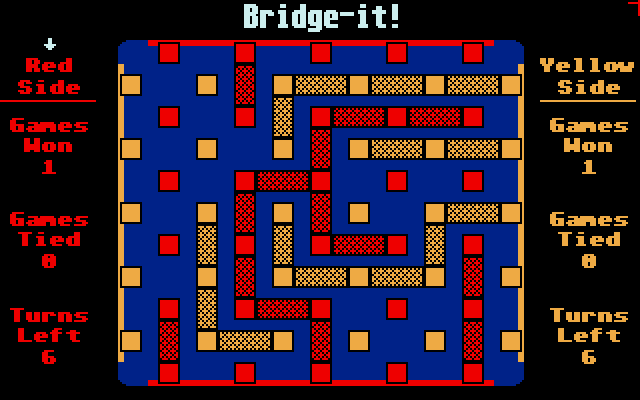 Yathzee

Sensory

Mastermind
The well-known Mastermind game in a GEM version. The interface was created with an application construction set, the result is impressive. (all resolutions from ST-High)
Eamon
Mixture of role play and text adventure. A total of five different dungeons (adventure games) are available. You have to pass hundreds of battles against monsters and soldiers to reach the riches of the caves.
GFA 002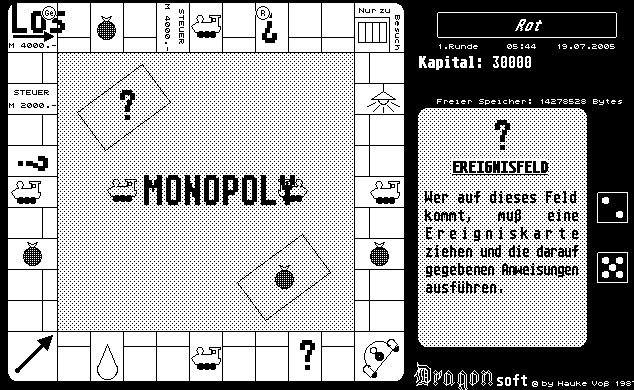 Monopoly
Beautiful version of the well-known board game. Scores can be saved
GFA 003
Tic-Tac-Toe

Pac Man

Score Four

States

GFA 004
CLR-Demo

Dir

CH-Time.

ED-Sprite

ARC
The well-known archiving program now also packs whole folders. Including a shell that supports folder packing and a shell for older ARC versions.
Speech

Plotfit

Format
A CPX module that enables disks to be formatted in the background.
GFA 005
Split

MicroCAD

SysMap

PIC-Clip

NumConvert

Kalender.

GFA-Mice

Globe

GFA 006
GFA 007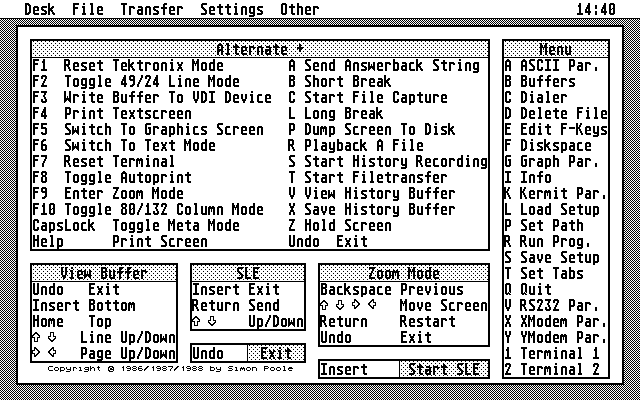 MiniTerm

UniTerm
UniTerm version 2.0c by Simon Poole is one of the classic term programs for the ST. This version offers the following improvements over previous versions: Remote Macro commands can now be disabled, an error message is displayed if this feature is used while turned off. VT52 cursor keys and PF1 to PF4 work again.
ARC
The well-known archiving program now also packs whole folders. Including a shell that supports folder packing and a shell for older ARC versions.
XModem

GFA 008
GFA 009
GFA 010
GFA 011
Merker

Haushalt

Manager

Kaufmann

GFA 012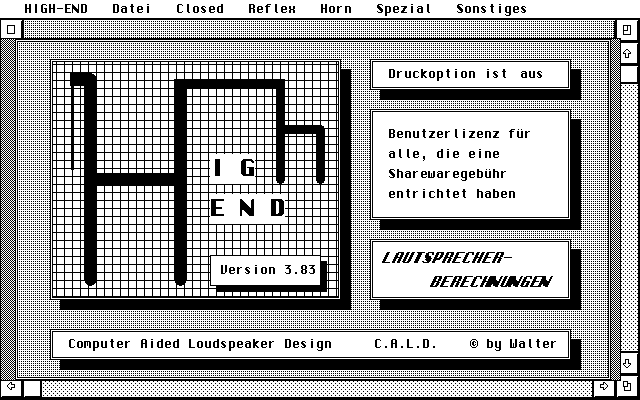 DegaSTar

Diskmon

Msk-Gen

High-End
Helps with calculations when building your own loudspeaker boxes. A large data collection is included
GFA 013
GFA 014
GFA 015
Grafik

Graph-V1

Proteus
This program can be used to effectively editor all the available parameters in the Proteus 1 and XR, store presets and master settings, and created configuration files which can be easily uploaded to the Proteus. A mini sequencer is also included in the application which can be run while parameters are being edited.
Metamorphose

GFA 016
Etikett.ZWF

Label3-2

DED/DI-Label

Etikett

GFA 017
Itoh

NEC-Utilities von NEC Deutschland

P6-Utils

GFA 018
Dialogbo

MCommand

Copy.LST

Director

TOS-Test

Lister

Thermometer

GfaTip04

GFA-Call

Anschrift

Abfrage

Joystick

GFA 019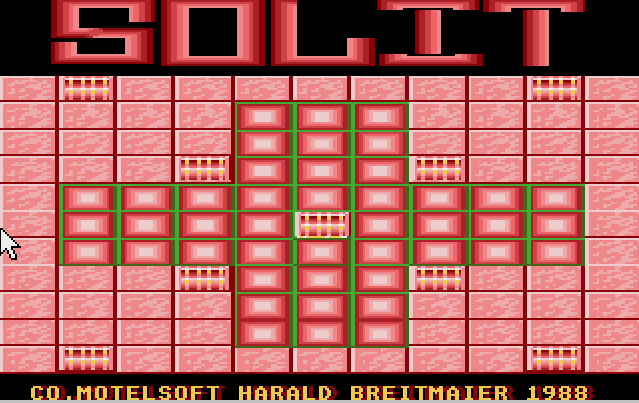 GFA 020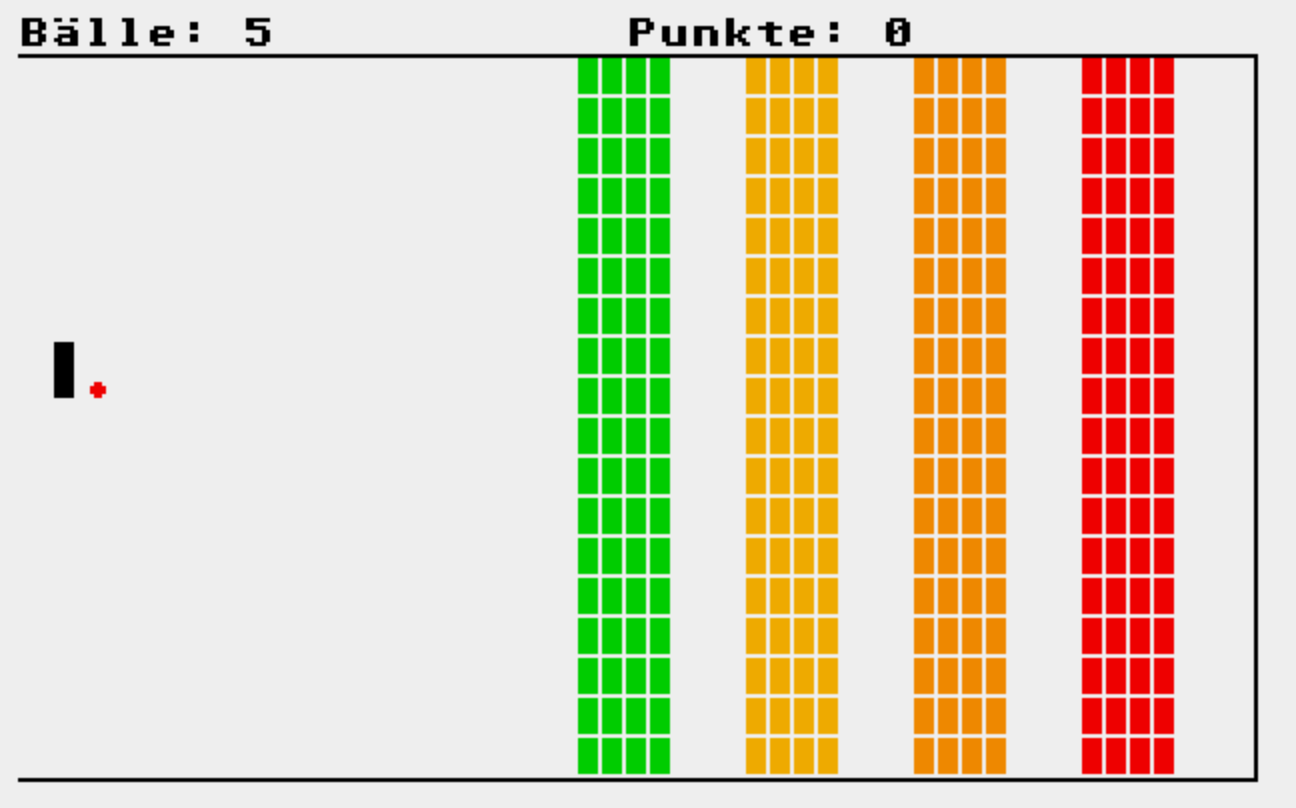 Durchbruch
Sophisticated breakout version. The editor allows free creation and saving of own levels.
GFA 021
Kombi
"Combination" by Dietmar Kraus is a combination game for masterminds. There are 5 boxes hidden on a chessboard, which have to be found by clever combination. By clicking on a box you can find out how many boxes are visible from it. Additionally you work against time.
Slalom

Hotel

GFA 022
Turtle
TURTLE is a fast hard disk backup utility program. It requires no special hardware, and the floppies written are standard TOS disks. To accomplish this speed, certain simple steps must be taken. TURTLE requires just about all the RAM you have (for double sided disks).
Fliess

Primzahl

REMex

Zahlen

HC File

Format
A CPX module that enables disks to be formatted in the background.
Krypto

Recover

Tracebas

NL-10

GFA-Pub

Verschiedene GFA-BASIC 2.0-Routinen.

Icon32

Crossref

GFA 023
StadFont

Isegraph

StadRSC

Graficut

GFA 024
GFA 025
GFA 026
38 neue Souns zu Digi Drum.

GFA 027
GFA 028
GFA 029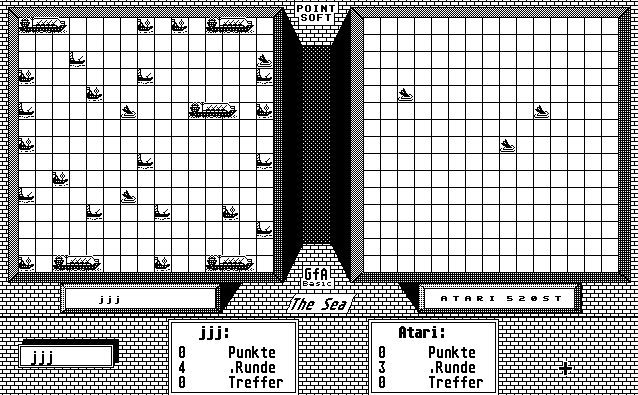 Scribble
Scrabble version. 1-2 people try to build as many words as possible from single random letters.
The Sea
Conversion of the well-known game Battle Ships. Opponent is the computer.
GFA 030
GFA 031
SpriteEdit

Diskkatalog

Basic

GFA 032
Format
A CPX module that enables disks to be formatted in the background.
GFA-Shell

Druck

ASCII

Files

Testbild

Trickkiste

GFA 033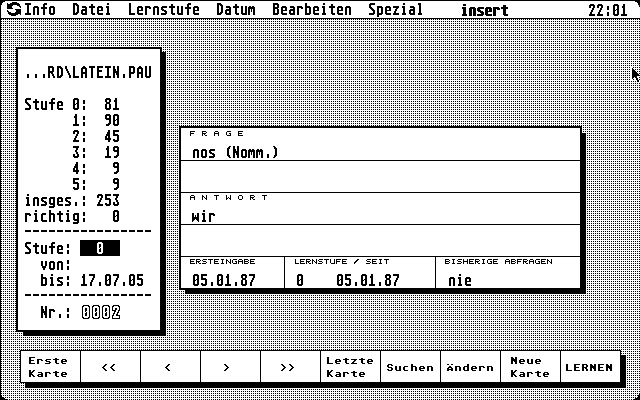 Pauk
Training file with comfortable control, own file input, repetition of wrong questions according to the learning concept
Tausch

GFA 034
Skilang

Termin

KHB

TapKey

Hardcopy

GFA 035
Sternzeit

Grafik

History
For each female or male first name, lists known historical and modern persons of the same name. More than a thousand historical events and birthdays of well-known personalities are also stored.
GFA 036
GFA 037
Konvert

Fenster

Basic.LST

Zahlwort

Xmal-RSC

Copy

GFA-Proc

Form

Utilities in GFA-Basic 2.0

Sorty

Rename

GFA 038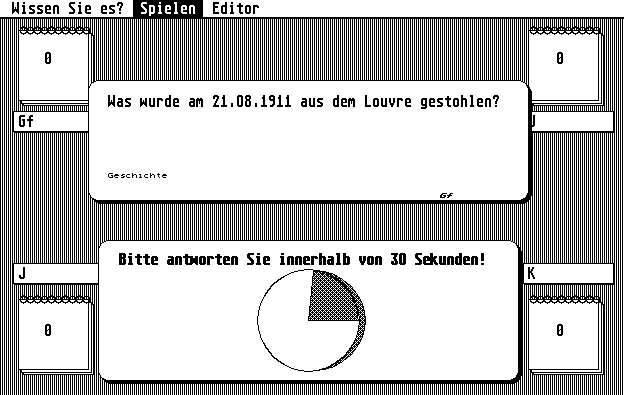 Wissen Sie es?
Quiz game for 1 - 4 players including question editor.
GFA 039
Adressenliste der Clubmitglieder

GFA 040
Spekulant
Enter the world of the stock market and walk the narrow path between success and bankruptcy.
Vokabel

Fly-a-Jet

GFA 041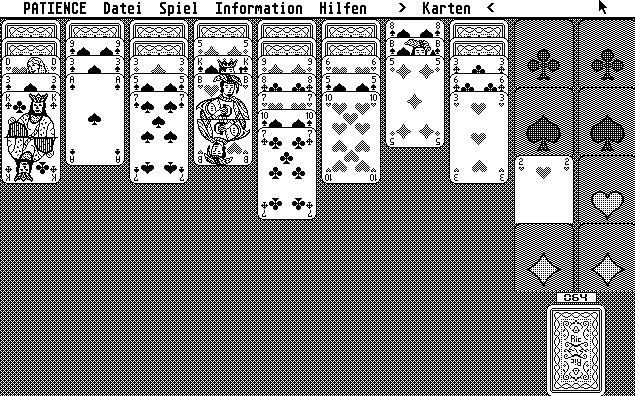 Fileselect

Trickfilm
With this program you can produce cartoons with up to 100 pictures. This program is mainly a painting program limited to the essential GEM functions. The individual images can be created quickly by modifying the previous images. Afterwards the sequence of images can be presented as a film forwards, backwards or in alternating directions. Including source code in GFA-Basic.
Patience
Patience variant in which you use two packs of 52 cards. The rules as similar to those for patience except that you have to make the cards up into eight suits (two of each type) rather than four. The game is very well structured with built-in on-line Help, hint and take back options and so on. Very addictive and challenging gameplay.
MicroCAD

GFA 042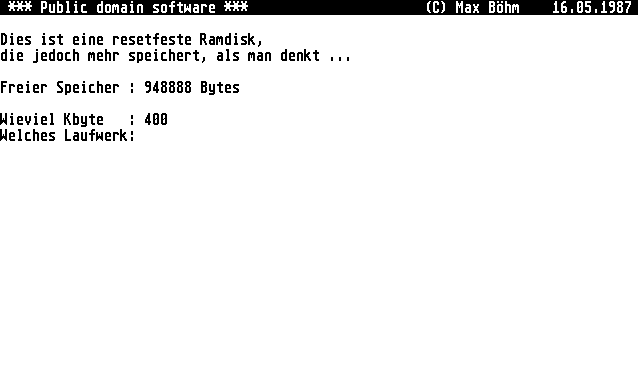 Maxidisk
MaxiDisk installs a resetproof ramdisk, which compresses the files stored on it. It is usually possible, to store about 750 kB in a 500 kB ramdisk
Shell

Ramdisk
Ramdisk with source in Assembler.
GFA 043
P-Paint

Diagramm

IconEditor.

GFA 044
Adressen

Gegenkonto

Buchführung

Kraftstoff

GFA 045
Shells

Datum

Checkfiles

IBM Drive
Allows file transfer IBM <-> ST.
Loader

Duck

MEditor

Texteditor

Make Icon

Night

Vit.Test

GFA 046
GFA 047
Koordnet

Show.ST

Z-ChefV12

Fenster

ACC-Desk

Shell

Z-Code11

F-Format

Animat

GFA 048
Box

Utilities

Diverse Programme in GFA-Basic 2.0

HD-Kapa

GFA 049
GFA 050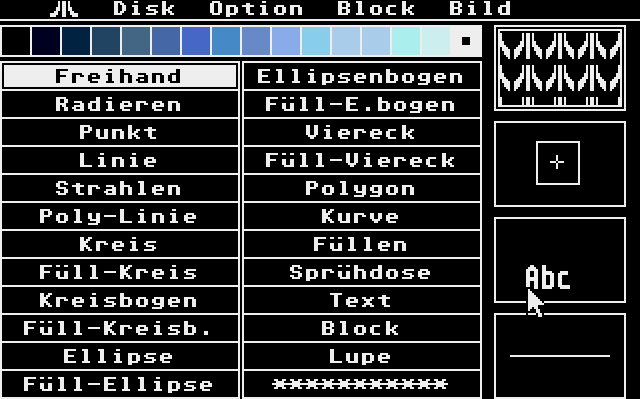 Chaos
Graphical representation of Fig Tree and Mandelbrot set.
Huepfer

GFA 051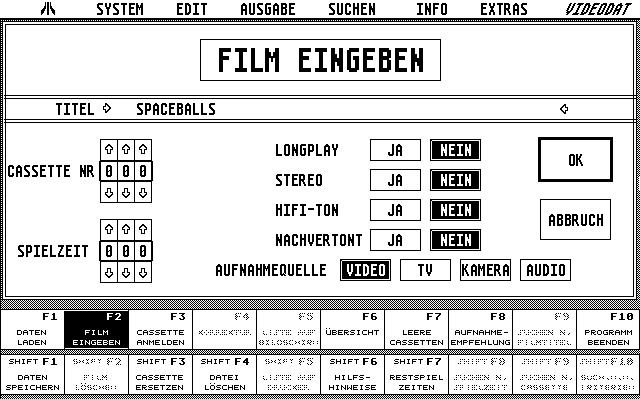 Videodat
Video management. Calculation of remaining playing time and creation of rental lists
Std-Plan